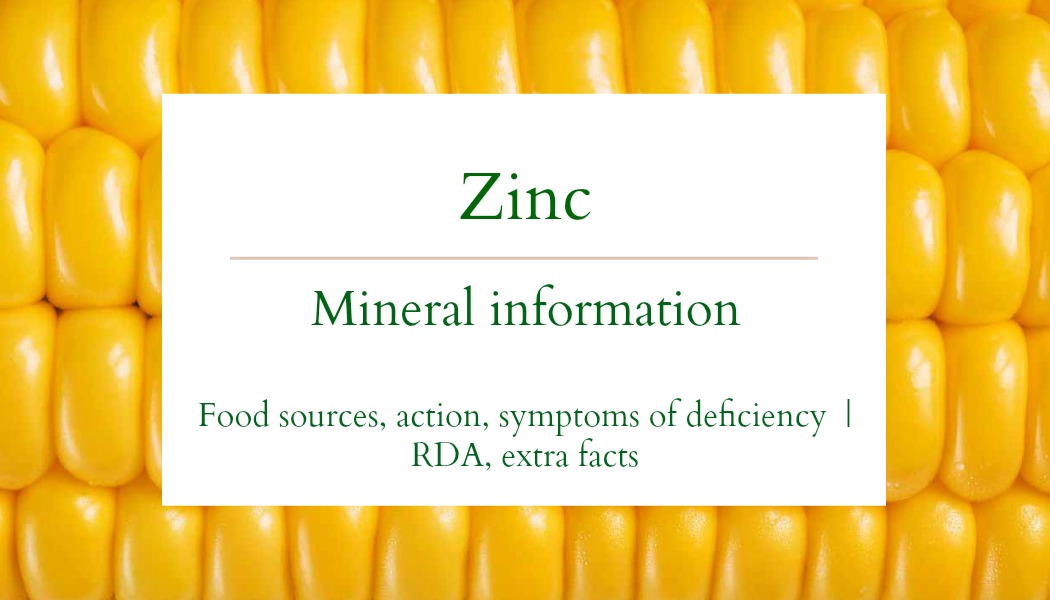 ZINC
FOOD SOURCE

Brewer's yeast, brazil nuts, broccoli, chicken, corn, eggs, fish especially herring, mushrooms, oysters, soya beans, spinach, sunflower seeds, turkey and wheatgerm.
ACTION

Assists skin repair, bone and teeth growth, promotes healthy immune system, necessary for correct functioning of insulin, assists normal growth and development during childhood, adolescence and pregnancy, slow aging process and improve sex drive. An antioxidant.
SYMPTOMS OF DEFICIENCY

Fatigue, loss of taste, mouth sores, loss of smell, loss of appetite, hair loss, diarrhea, delayed sexual maturation and impotence, acne, slow healing of skin lesions, rashes, iron-deficiency anemia, changes in the pigmentation of skin, anorexia, hair loss and a decreased immune function.
Zinc has uses based on scientific evidence and more involved info on dosing for specific symptoms.
RDA* 15 mg

* Recommended Daily Allowance
REGULATOR OF ZINC FUNCTION
The body needs zinc to activate T lymphocytes (T cells).
T cells help the body in:
controlling and regulating immune responses
attacking infected or cancerous cells