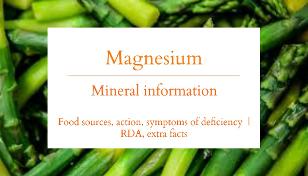 MAGNESIUM
FOOD SOURCE

Asparagus, bran, bone meal, green vegetables, honey, nuts, seafood and spinach.
ACTION

Helps treat depression, heart conditions, stomach acidity, poor circulation, noise sensitivity and kidney stones. Aids blood sugar levels.
SYMPTOMS OF DEFICIENCY 'include muscle weakness, fatigue, hyperexcitability, and sleepiness'. MedlinePlus
muscle cramps
poor sleep
chronic pain
RDA* 420 mg
* Recommended Daily Allowance
CAUSES OF MAGNESIUM DEFICIENCY
Processed foods

Low magnesium diets

Soft water

Soda drinks
Calcium supplements

Medications

Some conditions can increase vulnerability to being deficient, including:
The average American diet supplies less than two thirds of the magnesium required by the body.1
DEPLETION OF MAGNESIUM IN THE DIET
The typical American diet, which is rich in fat, sugar, salt, synthetic vitamin D, phosphates, protein, and supplemented calcium, not only is deficient in magnesium but actually increases the need for magnesium in the body."3
Each of these common eating habits compounds to create a general lack of magnesium in the diet. The consequences of the American diet on magnesium status are direct:



To get magnesium take a bath!Magnesium is in Epsom salts.
A lot of people don't realise that Epsom salts are made of magnesium sulphate. The benefits of an Epsom salt bath comes from the magnesium and sulphate, which is absorbed through the skin to help muscle and joint pain.
How much Epsom salts should you add to the bath?
Usually 2 cups is enough for one bath, but you can add more.
Do you drink coffee, tea daily?
Drinking caffeinated drinks increases your risk in being deficient in magnesium.
Magnesium levels are controlled in the body in large part by the kidneys, which filter and excrete excess magnesium and other minerals. Caffeine causes the kidneys to release extra magnesium regardless of body status.
If you drink beverages such as coffee, tea and soda regularly, your risk for magnesium deficiency is increased
Ideal for skin conditions and massage.
References:
Institute of Medicine. Dietary Reference Intakes for Calcium, Phosphorous, Magnesium, Vitamin D, and Fluoride. Washington, DC: National Academy Press; 1997.
Altura BM, Altura BT. Magnesium: Forgotten Mineral in Cardiovascular Biology and Therogenesis. In: International Magnesium Symposium. New Perspectives in Magnesium Research. London: Springer-Verlag; 2007:239-260.
Dean C. The Magnesium Miracle. New York: Ballantine Books; 2007.
Seelig M, Rosanoff A. The Magnesium Factor. New York: Avery; 2003.
Ovesen L, Chu R, Howard L. The influence of dietary fat on jejunostomy output in patients with severe short bowel syndrome. The American Journal Of Clinical Nutrition [serial online]. August 1983;38(2):270-277. Available from: MEDLINE with Full Text, Ipswich, MA. Accessed October 26, 2009.
SOURCE of 'CAUSES OF MAGNESIUM DEFICIENCY' : ANCIENT MINERALS